AIDA [startwo]
The AIDA ** freediver course is the foundation freediving course covering the necessary skills and knowledge for a non competitive recreational freediver to safely freedive with or without a guide line. It is designed to be a freediving beginners course for students who are already confident and happy in the water.
After successfully complete this course the AIDA 2 star freediver will be able to dive safely from 16m up 20m depth.
The purpose of the course is to familiarise the student with the skills, knowledge, planning, organisation, safety procedures, techniques, problems, hazards and enjoyment of breath hold freediving. Students will be introduced to the basic disciplines of freediving; Static Apnea, Dynamic Apnea and Constant Weight freediving.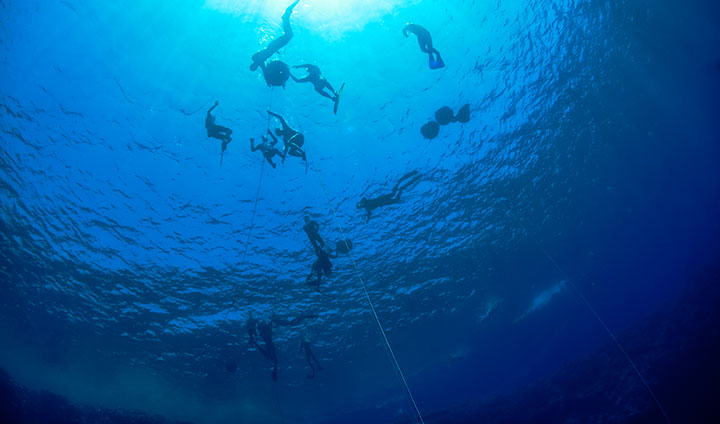 KNOWLEDGE DEVELOPMENT
The course includes 2 theory sessions. 2 pool sessions , (static and dynamic apnea) and 3 sessions at the sea.
The theory sessions will take place in a classroom with a minimum duration of 2 hours per session. Students will be provided with a hand-out of notes to take away for future reference.
The theory sessions will include:
Introduction to AIDA as an organisation
Equipment for freediving
Breathing for freediving
Depth and Pressure- Equalisation
Safety- Blackout (BO) and Loss of Motor Control (LMC)
Respect for the Aquatic Environment
Freediving and Scuba Diving
Key rules to remember for freediving safely
Freediving Disciplines
At the pool with the static and dynamic sessions are to be used to teach breathing, relaxation, finning and safety techniques. In the sea sessions the student will use the skills they have learned in the pool sessions and will combine these with the basic skills of open water freediving such as equalizing, duck diving, vertical swimming, body positioning.
Student Equipment – mask, bi-fins, snorkel, appropriate exposure protection, weight belt, lanyard (if
appropriate)
Freedivers who meet all the performance requirements of the course will be certified as an AIDA ** Freediver.
Get in Touch