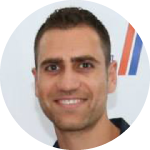 Andreas Yiafas
I am strongly committed to the promotion of anything related with human activities and exercises in nature. My passion to explore my boundaries drove me to discover freediving, after watching a YouTube video of the Austrian record man Herbert Nitsch.
I am a prime example of the expression "from zero to hero", in April 2009 I was able to dive just 1 meter but, almost 1 year later, I had a 45 meters dive. If I can do it, you can do it! I went through all the AIDA levels and became an instructor in June 2015. I love to share my knowledge and help others improve their freediving skills and experience all these great emotions without putting themselves in danger.
It's easy to get motivated and get started. Once it becomes a habit, it will keep you going.
Follow me:
Pavlos Kourtellas
Pavlos Kourtellas is a certified AIDA Freediving Instructor, freediving athlete and the National Record holder of Cyprus. His commitment to teaching is what drives him to lead, educate and encourage others on their journey to discovering their passion for freediving.
Before he started working as a full time Instructor, Pavlos competed in numerous International Freediving Competitions since 2008, is an AIDA Judge since 2015 and also an experienced safety diver. His dedication for competitive freediving, influenced him to organize four International Depth Competitions, thus encouraging the sport on the island which continues to grow in popularity.


Follow me:
Learn and improve your freediving skills,
come to
join us

in a freediving course.

Learn new skills to take your freediving to the next level.