AIDA [starthree]
The AIDA 3 Star is an intermediate course which builds on the skills learned in the AIDA 2 Star course. It is designed to cover the necessary skills and knowledge for a recreational freediver to be able to safely freedive with or without a guideline. The aim of the course is to develop the skills and knowledge necessary to independently plan and participate in freediving activities with similarly experienced freedive buddies.
After successfully complete this course the AIDA 3 Star freediver will be able to dive safely up to 30m depth.
The course is also designed to develop new skills and a higher knowledge of safety procedures and techniques for freediving such as free falling, Frenzel equalizing, training tables, the risks of increasing and decreasing pressure and how to minimize these risks.
Students will train these skills in the most common disciplines of freediving; Static Apnea, Dynamic Apnea and Constant Weight.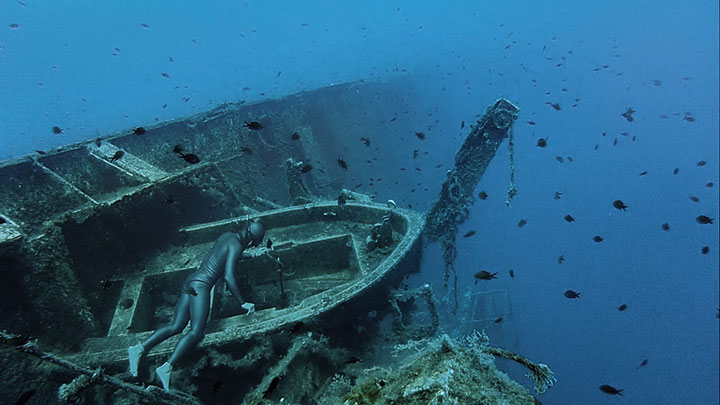 KNOWLEDGE DEVELOPMENT
The course includes 3 theory sessions. 2 pool sessions , (static and dynamic apnea) and 4 sessions at the sea.
The theory sessions will take place in a classroom a minimum duration of 2 hours per. Students will be provided with a hand-out of notes to take away for future reference.
The theory sessions will include:
Physics –Dalton's Law, Boyle's law, Buoyancy applied to deep diving
Physiology – The cardiovascular system, Hyperventilation, BO/SWBO, equalisation
The lungs at depth
Mammalian dive reflex
Training concepts
Ethics
Planning diving sessions
The Buddy system
At the pool sessions of the course is intended to refresh the student diver's existing rescue skills. It also introduces the student freediver to Static Apnea and Dynamic Apnea training tables and the benefit of warm-ups as a preparation for a maximum performance. In the sea in each session we focus to Technique and Equalisation Practice, Free falling, Self Rescue and Safety diving, Training and Rescue, Warm up and Maximum Performance .
Student Equipment – mask, fins or monofin, snorkel, appropriate exposure protection, weightbelt, lanyard
Freedivers who meet all the performance requirements of the course will be certified as an AIDA *** Freediver.
Get in Touch